Episodes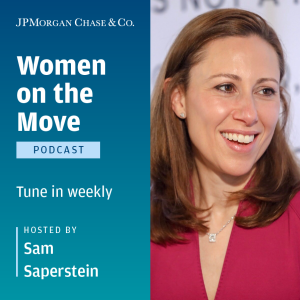 Thursday Jul 20, 2023
Thursday Jul 20, 2023
As Publisher and Chief Revenue Officer at The Atlantic, Alice McKown is always on the lookout for new ways to work with clients and deliver the magazine's brand. "What's unique about The Atlantic is that we are known for our influence on the cutting edge of conversation," she says.
In this episode of Women on the Move, Alice sits down with host Sam Saperstein while at the World Economic Forum in Davos. The two discuss Alice's two-plus decades in the magazine business, and how having a solid support system has helped her navigate change.
From coast to coast in the magazine world
At The Atlantic, Alice oversees all commercial revenue and partnerships related to the magazine, events, website, social media, mobile channels, and the branded content agency, as well as the brand's new film and TV business. She tells Sam that it was her 20 years of magazine experience under the Conde Nast umbrella that prepared her for her current role.
"I got incredibly lucky," she recalls. "I moved to San Francisco after college. It was the internet heyday. I had some friends who worked at Wired magazine, who had just gotten bought by Conde Nast, and I jumped into the magazine business. I jumped into a marketing role and really grew at Wired. It was at a time when there was tremendous growth with the internet exploding, and we were just an ideas machine and we launched some amazing things."
She eventually made the move to New York, where she worked on other Conde Nast products such Vogue, GQ, and Vanity Fair. "And what was incredible is I was there for 20 years, but I had so many unique different opportunities and different bosses," she tells Sam. "I jumped from marketing into digital operations into sales. And I think that was a big moment for me, was sort of moving from marketing into sales."
She says she'd always thought of herself as a marketer, as someone creative, until a friend suggested she think about sales. "And I was like, I don't know clients, I don't know how to sell," she recalls. "And they're like, you're creative, you've got big ideas, don't worry. That's what the clients want to hear. So I jumped into being an associate publisher and managed a very senior sales team and I was terrified. But then I realized as you started having these conversations around partnerships, it really was about solving people's problems, big ideas, what could you do together creatively?"
Leveraging teamwork and a support network
Alice says she realized early in her career that people work best when they work together and allow their skills to complement each other. Another key lesson? Letting her team members shine. The best salespeople, she says, are like "heat-seeking missiles." When something works for them, they keep coming back to it. "And so that's how I found both my relationships with them, and [with] their clients," she tells Sam. "It's like, Working with Alice is really working for me and my business. And so I didn't come at it as, I'm your boss. I came at it as, Let's figure out how you do you and I do me and one plus one is three."
Coming to The Atlantic to head up a new team—many of whom had been working together for a long time—was a challenge that Alice says she was prepared for. "It's tricky and I think you want to kind of listen and hear, but you also want to remember what you know and what you know that works, right?" she says. "And so I think some of it is thinking about who are the people within the organization that I know will get on board with how I'm thinking, right? And really lean into those folks, have them help you kind of spread that change too."
During her earlier career moves, Alice says she learned to make sure she had one or two people with her who knew her well. "Whether that was a boss or a colleague, but knowing that I could show up in a new place [and] I knew I had a person or two that knew me, knew what I was capable of," she says.
As far as the future, Allice says she continues to be inspired by the work she does and is excited about managing and motivating a great team: "I am so excited about the year ahead and how we can work with our partners, how we can make The Atlantic brand stand out even more in new and surprising ways."
Disclaimer: The speakers' opinions belong to them and may differ from opinions of J.P. Morgan Chase & Co and its affiliates. Views presented on this podcast are those of the speakers; they are as of July 20th, 2023 and they may not materialize.
Full transcript here