Episodes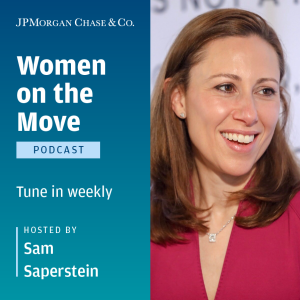 Thursday Jul 27, 2023
Thursday Jul 27, 2023
In this episode, Women on the Move Podcast Host Sam Saperstein sits down with Dr. Wendy Borlabi, Director of Mental Performance and Health for the Chicago Bulls. Wendy discusses the personal philosophy and authenticity she draws on to support athletes, young women, and even herself to help optimize performance and become mentally tough. The pair also discuss Wendy's commitment to bringing other women along in the sports psychology field, and how she strives to be a role model in success and failure for both her own kids.
Commitment to authenticity
Wendy followed her own authenticity to her current role with the Bulls. After earning her undergrad degree in psychology, she worked as a psychologist for several years in Oklahoma, helping support adults with depression and schizophrenia. Being an athlete herself (she had once aspired to play in the WNBA) and remembering a conference on sports psychology that she had attended earlier with a friend, she started thinking about moving into that area.
She soon started the master's program in sports psychology at Georgia Southern, and describes a pivotal moment in her life: her advisor warned her that the sports psychology field was full of men who may not be welcoming to a woman of color. "He wanted to prepare me that this was not gonna be an easy thing," she tells Sam. At first, she says, she was upset by his message, but she soon had a realization: "I needed to be me authentically. I couldn't change who I was in order to get a position."
Since then, she says, being true to herself has served her well. "I just remember my first year so much," she recalls to Sam. "I just got to see when I was myself, my goofy regular self, they gravitated to me. And when I tried to be somebody else, it didn't work again. I don't know if I would've thought of that if he wouldn't have said that to me."
Commitment to other women
In her role with the Bulls, Wendy works with players, coaches, trainers, and "anybody in basketball operations" to help them perform better mentally. "If you think about a strength and conditioning coach or a nutritionist or a physical therapist, they get you back in different pieces of your body to help you perform," she describes. "And what I do is on the brain, to help you be able to tackle some of those things that can possibly prevent you from performing your best at your job."
But, she says, there aren't a lot of women in the sports psychology field and it can be a difficult space for women to maneuver in. She hopes to see a big increase in the number of women across the entire male-dominated sports industry: bringing other women along, who in turn inspire more women is a personal goal.
To that end, Wendy founded a nonprofit called Wisdom Knot, which is dedicated to educating disadvantaged youth about careers in sports other than being an athlete. The more women that girls see doing these jobs, the more girls will be inspired, she says. But she also notes it's just as important that men in the field are welcoming to women and make active statements like "A woman could do this job."
In addition to the nonprofit, Wendy also founded Borlabi Consulting, focused specifically on women in sports psychology. Recognizing that there aren't a lot of avenues into the field of sports psychology, she wanted to spread the word and provide more opportunities for women.  She hires interns who get experience working with an NBA team or another institution, but also learn directly from Wendy about being a sports psychologist. The foundation also provides a platform for Wendy to do podcasts, presentations, and other outreach.
Wendy has a message for listeners working toward their own goals, which comes from a John Gordon Book called How to Be a Coffee Bean. "It talks about the fact that if you take hot water and you put an egg in it, that the egg becomes hard and you don't want to be a hard person to work with or deal with. If you put a carrot in the hot water, it becomes mushy and you don't want to be that person either. However, if you put a coffee bean in the hot water, what happens? They come together, they work together, they develop something magical: coffee. So I want you to be a coffee bean. I want you to come together with the things in your life and develop something magical. And that can be anything in your corner of the world."
Disclaimer: The speakers' opinions belong to them and may differ from opinions of JP Morgan Chase & Co and its affiliates. Views presented on this podcast are those of the speakers; they are as of July 28th, 2023 and they may not materialize.
Full transcript here