Episodes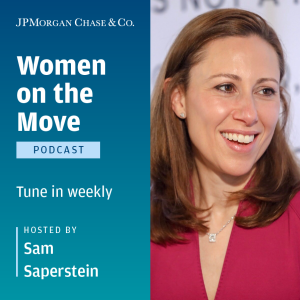 Thursday Sep 07, 2023
Thursday Sep 07, 2023
In this episode of the Women on the Move Podcast, host Sam Saperstein is joined by Jamie Kramer, head of the Alternative Solutions Group for J.P. Morgan Asset Management, and Ali Rosenthal, founder and managing partner of Leadout Capital. Jamie and Ali connected after Jamie's team invested in Ali's Venture Capital fund. Here they discuss their career journeys and why they both believe asset management is a great career for women.
The story behind Project Spark
In more than 30 years at J.P. Morgan, Jamie's career has spanned both Asset and Wealth Management, with roles across public and private investments. Five years ago, she was named head of Alternative Solutions at the firm, where she's responsible for insights, analytics, and cross alternatives investment solutions. She's also the CEO of Global Hedge Fund and Alternative Credit Solutions business.
Jamie recalls when she met a woman who was struggling to raise funds for her own venture fund in 2020. "I couldn't really understand why she wasn't as successful raising these assets," she says. "And so I approached our CEO and asked on behalf of Asset Management if we could give her some capital."
That initial investment led to the creation of Project Spark, an effort aimed at providing capital to funds managed by diverse, emerging alternative managers, including minority-led and women-led venture capital funds and other private funds. "I'm really excited that the 33 managers that we've invested in and the $140 million has helped accelerate well over a billion in fundraising," Jamie says. "And Ali is one of those managers."
Leadout Capital
After a stint as a professional women's cyclist, Ali began her career in operating roles at consumer technology businesses (she was an early employee at Facebook) and in investment banking as both an angel investor and an institutional investor. "I got Leadout going because I saw a gap in the market with respect to who got access to capital," she tells Sam and Jamie. "I believe today the numbers are still that fewer than 3 percent of companies are invested in by the venture capital community. And I thought that was really compelling."
Leadout's focus has been on women, underrepresented minorities, and people who according to data are less likely to receive venture capital funding. As Ali says, these are founders who "had great ideas, great momentum, but oftentimes were overlooked because they didn't fit pattern recognition. And so I wanted to use my platform, my network, my experience to back them and to connect them via bridge for them to other sources of capital, not only monetary capital but network capital and social capital and people and experts who could really help them go from zero to one."
"We really pursue what we call a founder market fit–driven thesis," Ali says. "So we look for founders who themselves are customer segment experts, people who have lived a problem in a market that they know well either because they care enough about that market to embed with the customer, become a customer themselves, really understand the pain point that a customer is having and solve it with software."
"A great career for women"
Ali and Jamie agree that asset management can be a great career fit for women. Jamie notes that the field is both relationship-driven and problem-solving oriented, two skills that women tend to excel at. It affords good life balance, she says, with relatively predictable hours. And she cites research that shows that although there aren't enough women in asset management, they tend to be successful in the field. In addition, it offers an opportunity for women to do well financially which in turn allows them to give back, which research shows women gravitate toward.
"And something that Ali said, which is that asset management is not transactional," she adds. "It's extremely relationship driven. No matter what aspect you're in, you are managing money as a fiduciary on behalf of someone helping corporations meet their goals. You're helping individuals retire."
Disclaimer: The speakers' opinions belong to them and may differ from opinions of JPMorgan Chase & Co. and its affiliates. Views presented on this podcast are those of the speakers; they are as of September 7th, 2023 and they may not materialize.
Full transcript here