Episodes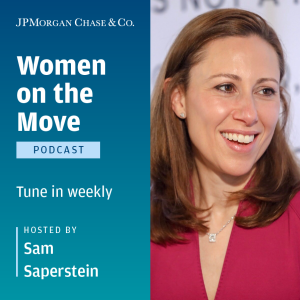 Thursday Sep 14, 2023
Thursday Sep 14, 2023
In this Founder's Feature of the Women on the Move podcast, host Sam Saperstein introduces April Holmes, co-founder and CEO of Hero Hangout, and a Paralympic gold medalist. April shares her inspiring journey of developing Hero Hangout, which was born out of her experiences as a professional track and field athlete.
During her athletic career, April noticed that parents often wished their kids could interact with athletes like her, seeking guidance on various topics. This sparked the idea of creating a platform where kids could connect with their favorite athletes, entertainers, musicians, and more to ask questions and gain valuable insights.
While April's entrepreneurial journey comes with its challenges, particularly navigating the tech space and creating a roadmap for the app's growth, her mental toughness, resilience, and experience as an athlete have equipped her to overcome obstacles.
Listeners are encouraged to support Hero Hangout in any way they can, as April believes that community support and help from others will be critical to achieving the platform's mission of making the world a better place for kids. To learn more, visit hero hangout.io
Disclaimer: The speakers' opinions belong to them and may differ from opinions of JP Morgan Chase & Co. and its affiliates. Views presented on this podcast are those of the speakers; they are as of September 14th, 2023 and they may not materialize.
Full transcript here