Episodes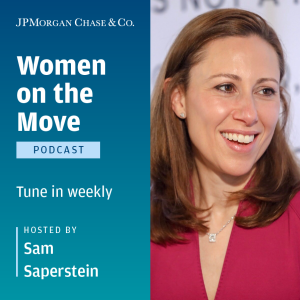 Tuesday Apr 14, 2020
Tuesday Apr 14, 2020
The power of a global community.
For Claudia Romo Edelman, service is a global affair. Starting as a diplomat in her home country of Mexico, Claudia has served as a first correspondent and worked for the World Economic Forum for 10 years. She is currently Special Adviser to the United Nations, working with Ariana Huffington on Thrive Hispanic, and spoke with Women on the Move about changing the narrative for Hispanic communities, bringing Hispanics together to leverage their power in her foundation We Are All Human.
"We're forgetting that we all belong to the same human family. It's all about having this conversation through content, through community of precisely that. That we are all human," says Claudia. 
Uniting the Hispanic community
In America, there's a label of Hispanic or Latino/Latina, but it's something Claudia believes Hispanics have not used to their advantage.
Claudia's passion and dedication to her community have led her to create her foundation We Are All Human.
In her work with the World Economic Forum and the Hispanic Star Alliance, Claudia sees the future as one where Hispanics and Hispanic leaders are unified. "We're going to launch a symbol for Hispanics to unify and in a year, we will see this symbol in the windows of corporate America during Hispanic Heritage Month."
Her plans include working with the 150 companies that have signed the Hispanic Promise and launching the podcast Global Goalscast to celebrate the positivity and progress of the Hispanic community.  
Global action starts with you
After experiencing a massive earthquake as a teenager in Mexico City and rescuing a young girl during the relief aid, Claudia learned to accept what her family called "her loudness" and use her voice in the service of others.
In this episode, Claudia talks about the importance of coming together as a global community, learning from others through open dialogue, and promoting the power of the Hispanic community. Listen to the full episode and learn how fierce global advocate is changing perceptions one conversation at a time.