Episodes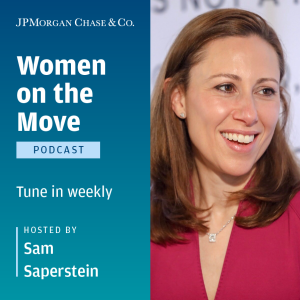 Thursday Feb 18, 2021
Thursday Feb 18, 2021
How Barnard's President Sets Female Students on the Path to Success
Sian Beilock is president of Barnard College, a liberal arts college for women in New York City. The mission of the school is to develop its students to become agile, resilient, responsible, and creative in order to lead and serve their society, and Sian eagerly describes some of the school's groundbreaking programs that fulfill that mission.
"We started a new program this year that I'm really excited about called Access Barnard," she tells Women on the Move host Sam Saperstein. "It's a home, both physical and virtual, for first-generation, low-income, and international students. So populations that may not have experience navigating American higher ed."
Access Barnard offers these students help with everything from finding a mentor to budgeting for living expenses to asking professors for help. Sian says this program is particularly important because the school's acceptance policy is need-blind: Barnard doesn't consider financial need when reviewing applications.
Since Barnard is very focused on preparing women to lead, the school has created multi-level resources to help alums succeed once they've graduated. One such resource is Beyond Barnard, a one-stop shop that students utilize from day one to learn about different career paths and connect with professionals in the school's broader network. Sian explains that connecting her students to female role models across industries is a huge priority.
"At Barnard, 60% of our faculty are women, including faculty in the sciences," she says. "And when you see women who are excelling in fields where they're not traditionally represented, when you see women leaders, it lets you know that 'people like me' can do this."
Self-care as leadership prep
Sian emphasizes that her school is dedicated to instilling its graduates with the skills and knowledge they need to achieve long-term independence. The school's new Francine LeFrak Center gives all Barnard students access to comprehensive physical and mental health, holistic wellness, and financial literacy support services, and underlines Barnard's commitment.
"We know that women often stay in relationships for financial reasons and that women even who are successful in their own careers, aren't overseeing their own finances," Sian explains. "These are part of the financial literacy conversations that will take place at our new wellbeing center."
Watching Barnard students gain confidence, expertise, and wisdom makes her job incredibly rewarding, Sian tells Sam.
"Our students are going to go out and change the world," she emphasizes. "I know young people are not going to stand by and go back to the old normal or accept systemic inequality issues around healthcare, race, and education. I have so much confidence and pride in these young women, and I can't wait to see what they produce next."