Episodes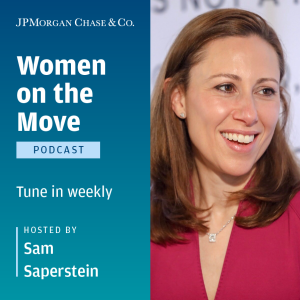 Thursday Aug 03, 2023
Thursday Aug 03, 2023
Ceci Kurzman, board director, investor, and entrepreneur is on a mission to change the haircare industry to better meet the needs of multicultural consumers. In this episode, she sits down with Women on the Move Podcast Host Sam Saperstein and shares insights on her life as a senior executive in the music industry, her extensive corporate board experience, and the launch of her businesses, Nexus Management Group and OurX.
From executive to founder
After years of experience as a music industry executive, Ceci founded Nexus Management Group in 2004, initially as a talent management company. "My first client was Shakira," she tells Sam. "I had just left Sony Music where I'd been an executive for many years. I really felt like it was time to do something sort of entrepreneurial in the business. There were no women managing artists and no female-led management companies at the time that I could identify."
Ceci says she originally formed Nexus to handle talent, but what she identified as her point of differentiation was to ensure that artists had second acts. "Most artists like athletes and other cultural icons, they have these very, very bright careers that reach a peak and then eventually have the slide in their career due to natural organic relevance erosion," she explains. "There are very few artists in that career class who are at their apex throughout their entire lives. The idea was how do you maintain the earning potential for that artist once they're no longer at their peak in terms of cultural relevance?"
Over time, Ceci navigated Nexus to become more of an investment firm. She says it was a combination of changes in her personal life—having children and wanting be at home more and working less around-the-clock as talent management requires—along with an increasing interest in the investments side of her business. "It felt like a very natural thing," she says. "And it was very stimulating intellectually and in terms of building a network of people beyond the entertainment industry."
A natural shift to board directorships
Beginning to serve on boards was a natural next step for Ceci. "Having worked with a lot of these management teams and investors over time, the natural evolution was being asked to serve on various boards, and it was a continuation of the learning and career and professional evolution to be honored to be asked to serve on some of these boards," she tells Sam.
For several years, when she started serving boards, she says she stayed away from entertainment companies because it felt important to step away from that industry in order to gain perspective in the long run. "I only came back into Warner Music and UTA [United Talent Agency] relatively recently in the past few years because I did want to specifically explore industries that might have been tangential to but not squarely aligned with the entertainment and media business," she says.
Meanwhile, she served on boards of beauty-related companies including Revlon and Johnson Publishing. She says it was there that she started looking at the unique needs of multicultural beauty. She soon found herself intent on identifying who exactly the multicultural consumer is, and where they've been underserved. She says the last bastion of segregation she identified in the beauty business was haircare: "While all these business model innovations had [thrived], none of that had reached the multicultural haircare world."
Haircare entrepreneur
Based on her experience on boards like Revlon, when Ceci decided to enter the haircare business as an entrepreneur, she started by diving into market research of the multicultural consumer. She founded OurX with the mission of merging technology with the needs of the textured hair community. She says it was the research-driven approach that helped her stand out. She describes OurX as less of a product company and more of a Noom for textured hair. "It's a personalized system that takes an individual's data and creates a customized plan for them and shapes it through product and one-to-one coaching and a personalized content feed that stays sort of with you day in, day out," she says.
Ceci's long-term goal is to be able to open more access to investment for entrepreneurs who want to serve multicultural consumers. "I would actually love to challenge the beauty industry to fold those categories and move everybody into what is universally a general market so that there is this value exchange," she explains. "And I think it's happened in all the other categories—this is sort of the last one, and I think [the industry] needs to see this category and this consumer differently."
Disclaimer: The speakers' opinions belong to them and may differ from opinions of JP Morgan Chase & Co and its affiliates. Views presented on this podcast are those of the speakers; they are as of August 3rd, 2023 and they may not materialize.
Full transcript here