Episodes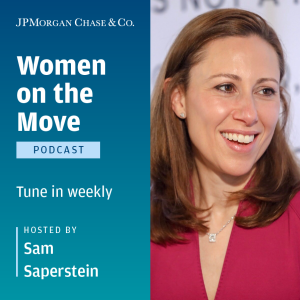 Friday Sep 22, 2023
Friday Sep 22, 2023
Women on the Move Podcast host Sam Saperstein talks with two leaders who support Latinos in building strong futures: Rocky Egusquiza, executive director of the Latin GRAMMY Cultural Foundation, and Silvana Montenegro, global head of Advancing Hispanics and Latinos at JPMorgan Chase. Silvana and Rocky talk about the partnership they've created, which is focused on providing financial health education to students and their parents.
Career with a purpose
Rocky says her experience as the daughter of immigrants has inspired her career. She says she comes from a "typical immigrant family" with hard-working parents who sacrificed for their kids, saw education as an economic equalizer, and valued giving back. "So whether it was opening our home to other immigrant families or friends, lending a helping hand, my mom used to always say, just add more water to the soup and more people can join the meal," she says. "They really led by example and showed us the value of paying it forward and helping others."
She says that emphasis on giving back and mentoring has been the common denominator and purpose in her career, which has spanned government, corporate, nonprofits, media, sports, and the music industry. "It's been about paying it forward, working with purpose, giving back," she says.
Rocky took on the executive director role at the GRAMMY Culture Foundation—the philanthropic arm of the Latin Recording Academy—in October 2022. The foundation's mission is twofold: One part is focused on the next generation of Latin music creators, supporting them through education, scholarships, and mentoring. The second priority is on Latin music preservation. "We work globally to look at, how do we preserve Latin music and how do we tell those stories?" she explains.
Educación Financiera
From her role at JPMorgan Chase, Silvana says she was inspired by the work that Rocky does with the GRAMMY Foundation to not only help students with their music but also to help them thrive. It's work that aligns well with her team's mission to advance Hispanics and Latinos, partly by creating opportunities for students and individuals overall. In early 2023, JPMorgan Chase and the Latin GRAMMY Cultural Foundation partnered to launch Educación Financiera – financial health education workshops as part of the Latin GRAMMY® Master Series. The workshops provide high school seniors and college students with access to money and credit management information and resources, as well as expert advice from financial leaders, music executives, and creators.
Silvana describes Latin music as a great connector for everyone. "One of the ways that we can really help the community is by making sure that Latin music is even more accessible and that we can support artists regardless where they come from," she says. "The basis of continuing to grow as individuals is obviously through financial health because we want to make sure that these artists have the tools and resources they need, not only to have a thriving career in music, but also to build their families, build their journeys and so forth."
The value of expert advice
Rocky talks about the importance of mentorship. It's something she prioritizes in her career, in part due to her own experiences. "I remember my first job that offered me the opportunity to contribute to a 401k," she says. "My parents didn't have 401k's, so I didn't have anyone to talk to and to help me understand the importance of that and how important it was to contribute early so that I could really help build that long-term wealth. So find those allies, find those mentors, find those sponsors that'll help you and ask the questions."
She says that kind of expert advice is one of the biggest benefits of the partnership with JPMorgan Chase. She shares a story of an event where a music industry executive took out his Chase credit that he first got in college and talked about the importance of that moment. "And I thought that was very interesting and kind of shows the impact that finances and this financial education and our financial journeys have on us," Rocky explains. "And even later in life, regardless of the level of our success, we don't forget when we were given credit, when we were given those initial opportunities and learned how to navigate that ourselves."
Disclaimer: The speakers' opinions belong to them and may differ from opinions of J.P. Morgan Chase & Co. and its affiliates. Views presented on this podcast are those of the speakers; they are as of Sept 22nd, 2023 and they may not materialize.
Full transcript here